Put some Halloween twist into your favorite puzzle game with this ghosts rescue activity!
Help! The ghosts are in trouble! Free them from the spider web using a tong.
With every ghost you save, you can uncover different cities to complete the map of The Netherlands.
Are you up to the challenge?
This is a fun Halloween activity for toddlers and perfect for their fine motor and problem solving skills.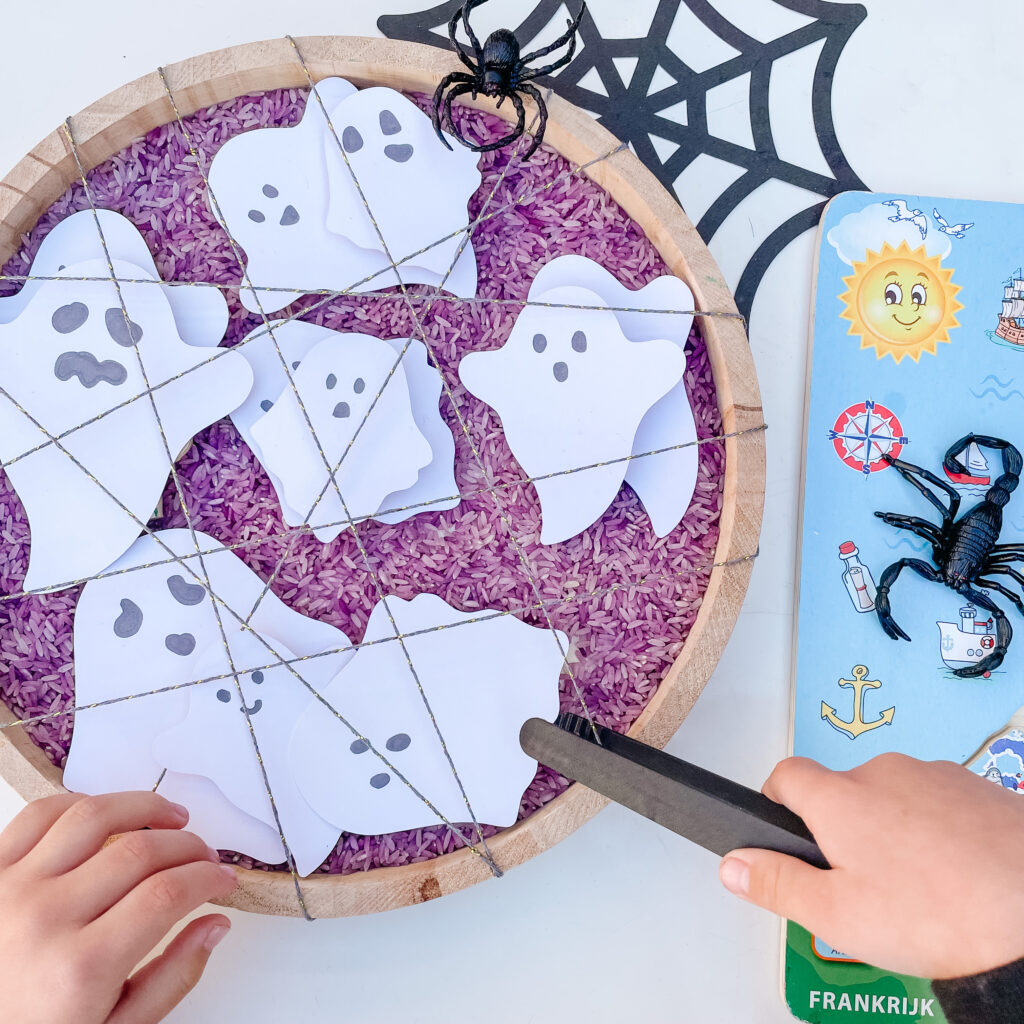 Let's set up a rescue the ghosts activity:
Materials needed:
Wooden tray
Puzzle
White cardstock
Black marker
Yarn
Scissors
Tong
Transparent tape
Toy spider (optional)
For the colored rice:
Food coloring; mix of blue and red
1 cup of rice
1/2 cup vinegar
Container with lid or ziplock bag
Paper towel
Instructions:
Cut out ghosts from the white cardstock. Make sure each ghost is the same size as the puzzle pieces.
Draw eyes and mouths on the paper ghosts using black marker.
Using transparent tape, attach each piece of the puzzle at the back of each ghost.
For the colored rice:
Mix the red and blue food coloring to create purple.
Fill the ziplock with a cup of rice.
Pour the vinegar.
Pour a few drops of the food coloring.
Close the ziplock.
Mix and spread the food coloring with the rice.
Add more drops until you reach your desired hue.
Pour the colored rice evenly on the paper towel and let dry.
How to set up:
Weave the yarn across the entire tray like a spiderweb. Secure the bottom with transparent tape.
Fill the tray with purple-colored rice.
Arrange the paper ghosts on top.
Add the toy spider.
How to play:
Ask your kid to rescue the ghosts using a tong.
Remove the puzzle piece behind the ghost and complete the puzzle.
Reel tutorial:
(Kindly click the full screen option for better quality)
PIN ME FOR LATER