This Valentine's Day, set up a pink, fun and messy oobleck activity that's guaranteed to make your dinosaur-loving kids enjoy.
Oobleck is a non-Newtonian fluid that's made from a mixture of cornstarch and water. This activity may be messy when you think about it, but trust me, it's a lot of fun, too!
The coolest part of playing with oobleck is that it is liquid when at rest and becomes solid when you apply pressure on it.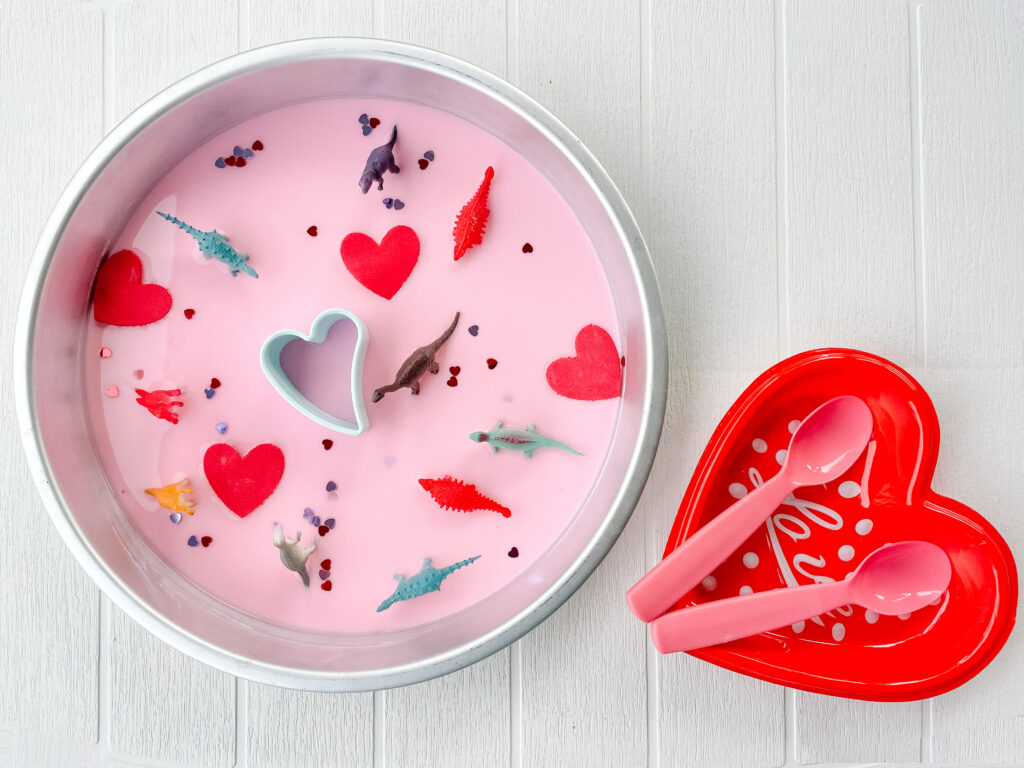 Let's set up a Valentine-themed oobleck:
Materials needed:
For the oobleck:
1 cup cornstarch
1/2 cup water
Food coloring, pink
Extra items:
Small dinosaurs
Tray
Cookie cutter (optional)
Foam heart cutouts (optional)
Heart confetti (optional)
Plate and spoons (optional)
Instructions:
Mix the cornstarch and water in the tray.
Pour a drop or two of food coloring. Mix.
Add the dinosaurs and hearts on top.
Invite kids to play.
How we played:
My kids enjoyed this activity a lot! They tried holding and scooping the oobleck and were really amazed at how it was solid and then becomes liquid all of a sudden.
This activity was indeed messy, but also really easy to clean.
NOTE: DO NOT throw or dispose used oobleck in the sink as it will clog up the drain. You can throw it in a plastic bag and into the trash or you can wait for it to dry and dispose the remaining powder in the trash.
PIN ME FOR LATER