Celebrate the coming of Spring with this DIY cardboard sensory puzzle and colored rice.
This was Nate's first ever sensory puzzle. He was 16 months old when they did this activity. I thought at first that he might be too young for this kind of activity, but he actually knew what to do and did a great job with color sorting. Well, except for the part where he started mixing the colored rice.
This was such a fun and messy activity that both boys enjoyed a lot. It's so easy to make using recycled materials, plus the little kids can also join in the fun, but of course with supervision.
Let's make a Spring sensory puzzle:
Materials needed:
Recycled cardboard
Paint; yellow, red, orange, green, white and grey
Paintbrush
Yellow pom-poms
Toilet paper rolls
Scissors
Glue gun and stick
For the colored rice:
Food coloring; red, yellow and pink
1 cup of rice for each color
1/2 cup vinegar for each color
Container with lid or ziplock bag
Paper towel
Extra items:
Instructions:
Draw the bunny and flowers in the recycled cardboard.
Cut 1 cm round pieces from the toilet paper roll and attach them into each petals.
Glue the pom-poms into the middle of the petals.
For the colored rice:
Fill the ziplock with a cup of rice.
Pour the vinegar.
Pour a few drops of food coloring.
Close the ziplock.
Mix and spread the food coloring with the rice.
Add more drops until you reach your desired hue.
Pour the colored rice evenly on the paper towel and let dry.
Do the same with all three colors.
How to play:
Pour the colored rice into separate containers.
Place spoons with each color.
Invite kids to play.
Fill the petals with the matching rice color.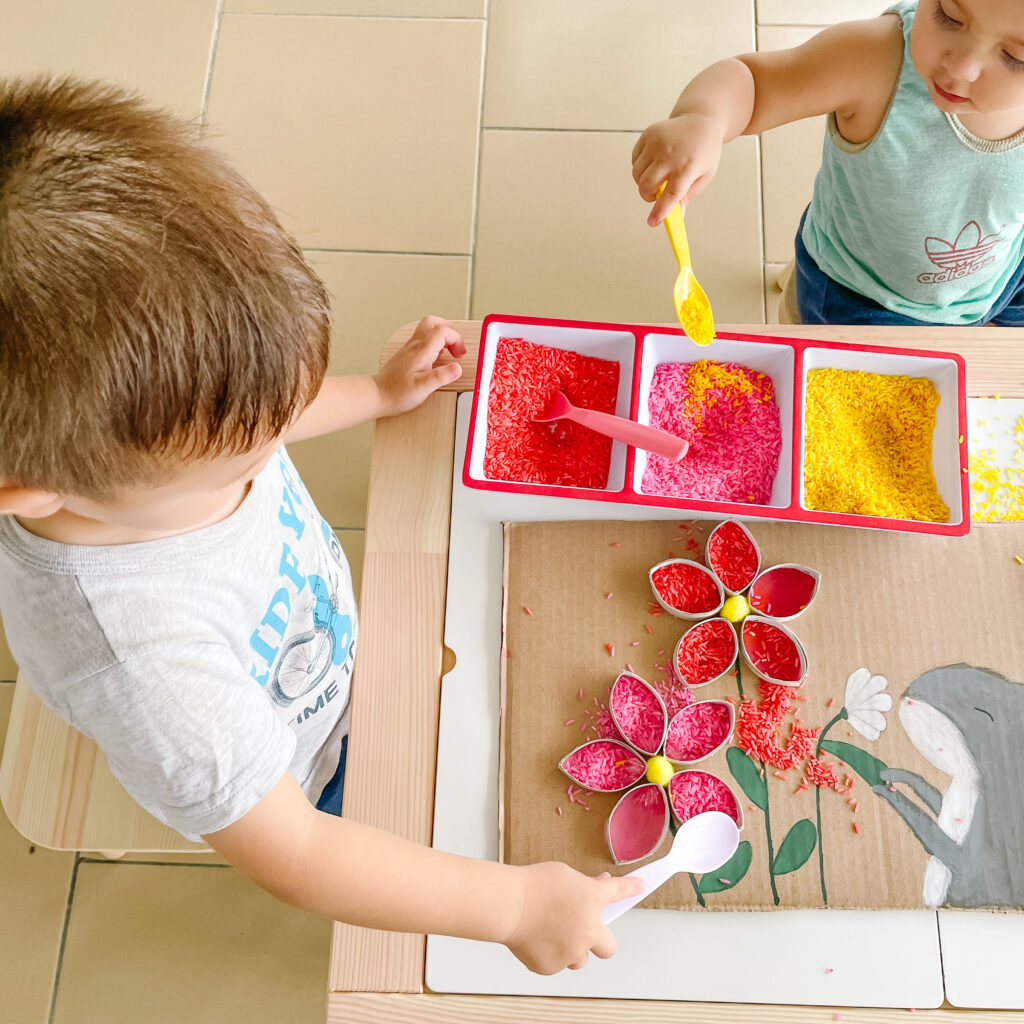 Hope you liked and enjoyed our activity!
PIN ME FOR LATER