Decorate your home with these adorable Spring garden picture frames made from popsicle sticks.
This post is in collaboration with Pandie! All thoughts and opinions are my own.
We're starting the first week of March with some spring-themed craft.
Niko was so excited with this activity! We used colored popsicle sticks as base and attached them with hot glue.
Niko decorated the frames with Pointer foamy figures gifted to us by Pandie. These are pretty easy to use because they have adhesives on their back plus they are child-friendly.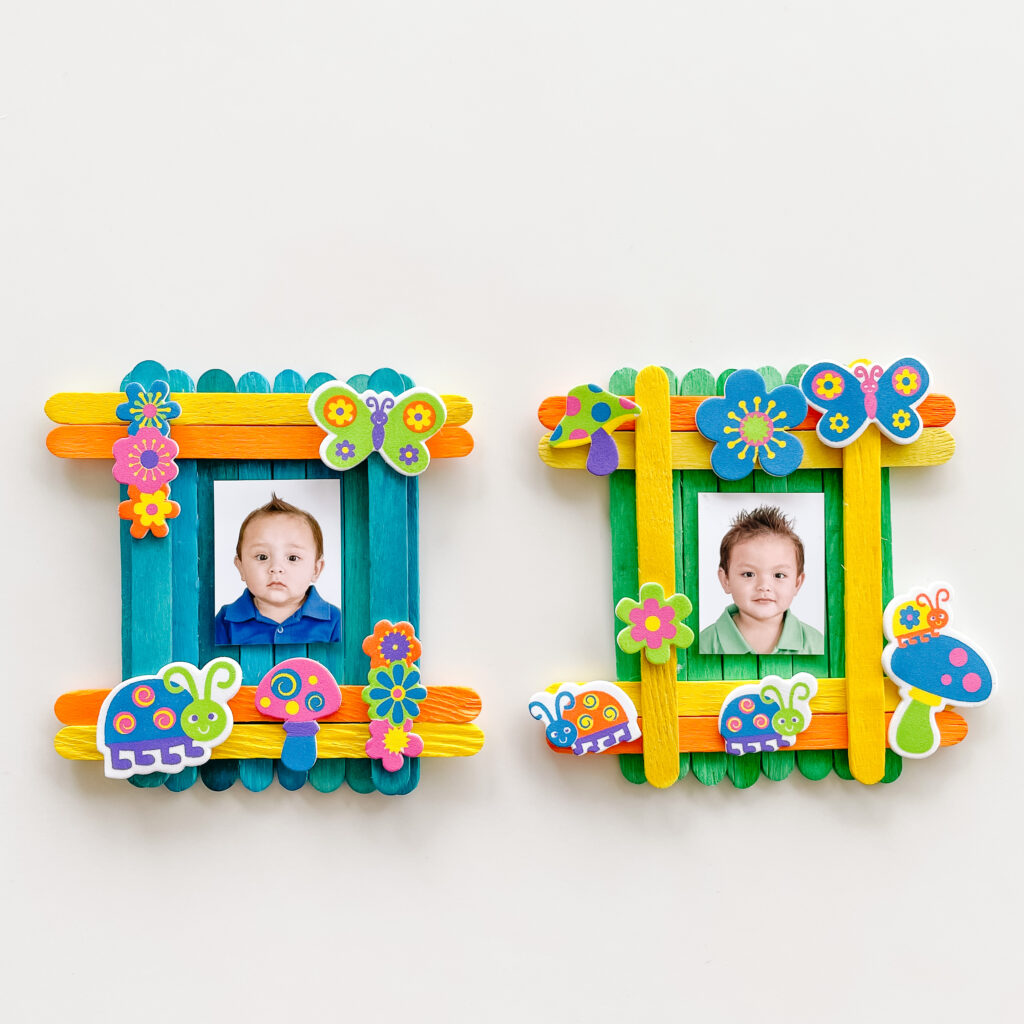 Let's build these popsicle photo frames:
Materials needed:
Colored popsicle sticks
Pointer foamy figures (insects and flowers)
Glue gun and stick
Photos
Instructions:
Line up 8 blue popsicle sticks and glue them together.activities for kids, activities for toddler, art ideas for kids, art ideas for toddlers, Arts and crafts, arts and crafts for kids, craft ideas for kids, craft ideas for toddlers, indoor activities for kids, kids activities, kids craft, sensory activities, sensory play for kids,  kinder activiteiten, knutsels voor kinder, knutselen voor kinder, kinderknutsels, kinder blog, craft blog kids, art and craft blog for kids, kids blog, toddler activities, craft blog, crafty blogger, diy blog, toddler crafts, arts and crafts for toddlers, toddler blog, kinder blog nederland, knutselen blog nederland, arts and crafts blog toddlers, arts and crafts blog kids, spring crafts, flower garden crafts, spring crafts kids, lente knutselen peuters, lente knutselen ouders, lente theme knutselen, lente knutsel peuters, lente knutsel kinder, spring crafts toddler, flower crafts, bloem knutselen peuters, bloem knutselen, flower crafts toddlers, flower crafts kids, popsicle crafts kids, popsicle photo frames toddler, diy popsicle frames, spring popsicle crafts
Attach four popsicle sticks (two orange and two yellow) horizontally on top of the blue popsicles. Two on top and two on the bottom.
Glue another two blue popsicles on top of the the yellow and orange popsicles. One on each side.
Decorate with foamy figures.
Attach the photo in the middle.
Do the same with the green popsicles.
Hope you liked and enjoyed our activity today! Happy Crafting!
PIN ME FOR LATER