My boys love sensory bins! They are always excited when I invite them to dig in and do whatever they want with every setup.
Now that Spring is finally here (yay!), here's a simple Spring-inspired sensory bin that I set up last year.
I had a lot of fun setting this up since we just got our flisat table all the way from The Netherlands. I never thought I would be this excited to unbox a kid's table.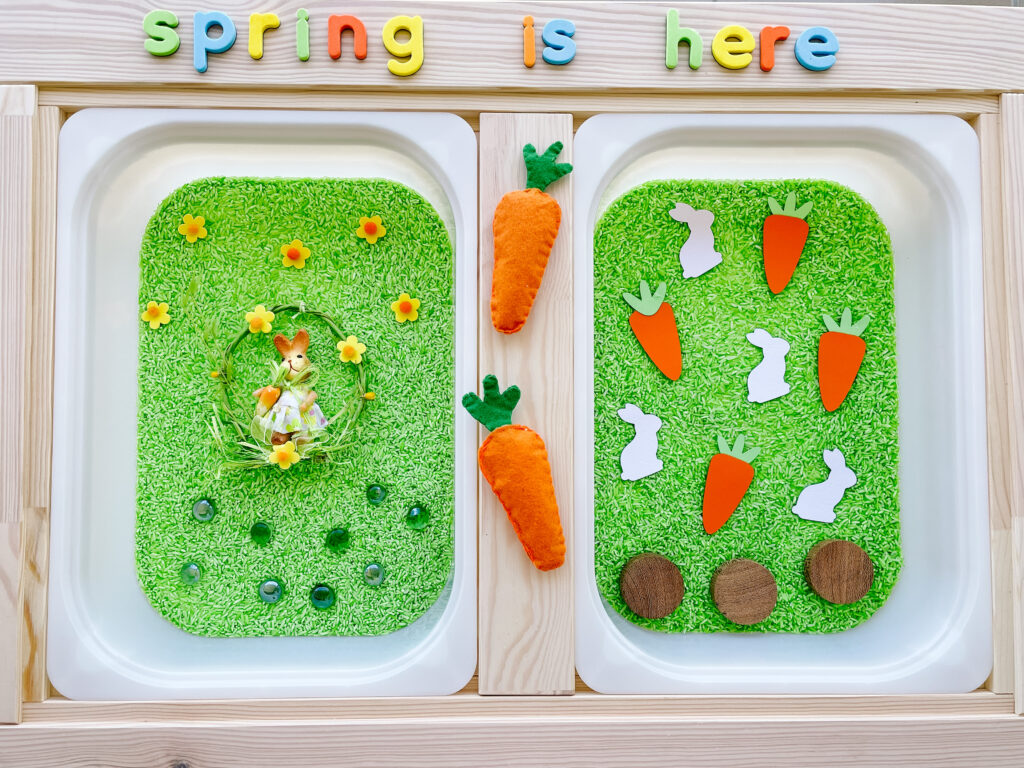 Let's set up a Spring sensory bin:
Materials needed:
Colored papers; orange, green and white
Yellow foam paper
Orange small pom-poms
Glue
Cricut (optional), you can also use scissors
Flisat (optional), you can use any container
Extra decorations:
Flat glass beads
Bunny decor
Small round wood
Felt carrots
Extra items for playing:
For the colored rice:
Food coloring, green
1 cup of rice
1/2 cup vinegar
Container with lid or ziplock bag
Paper towel
Instructions:
Cut out the rabbits and carrots using your Cricut or you can draw and cut them with scissors.
Using the yellow foam paper, cut a flower shape and glue the small pom-pom in the middle.
For the colored rice:
Fill the ziplock with a cup of rice.
Pour the vinegar.
Pour a few drops of the food coloring.
Close the ziplock.
Mix and spread the food coloring with the rice.
Add more drops until you reach your desired hue.
Pour the colored rice evenly on the paper towel and let dry.
How to set up:
Pour the colored rice into the container.
Arrange the decorations on top.
Prepare the spoons and bowls on the side.
Invite kids to play.
PIN ME FOR LATER