Create a cardboard polar bear sensory puzzle to celebrate National Polar Bear Day with your kids while learning about these wonderful creatures.
National Polar Bear Day also known as International Polar Bear Day is observed every February 27. It is celebrated to raise awareness about their conservation status.
Last year, we celebrated National Polar Bear Day by watching a short documentary about polar bears and doing a little sensory puzzle with colored rice.
Let's set up a polar bear sensory puzzle:
Materials needed:
For the cardboard puzzle:
Recycled cardboard
Pencil and eraser
Acrylic paint + paintbrush
Scissors
Glue gun and stick
For the colored rice:
Food coloring, blue
1 cup of rice
1/2 cup vinegar
Container with lid or ziplock bag
Paper towel
Extra items for playing:
Instructions:
For the cardboard puzzle:
Draw and paint a polar bear picture in the cardboard.
Cut strips of cardboard and glue them on the edge of the polar bear.
For the colored rice:
Fill the ziplock with a cup of rice.
Pour the vinegar.
Pour a few drops of the food coloring.
Close the ziplock.
Mix and spread the food coloring with the rice.
Add more drops until you reach your desired hue.
Pour the colored rice evenly on the paper towel and let dry.
How to play:
Fill a bowl with white rice and another bowl with blue rice.
Put out spoons.
Invite kids to play and fill up the sensory puzzle.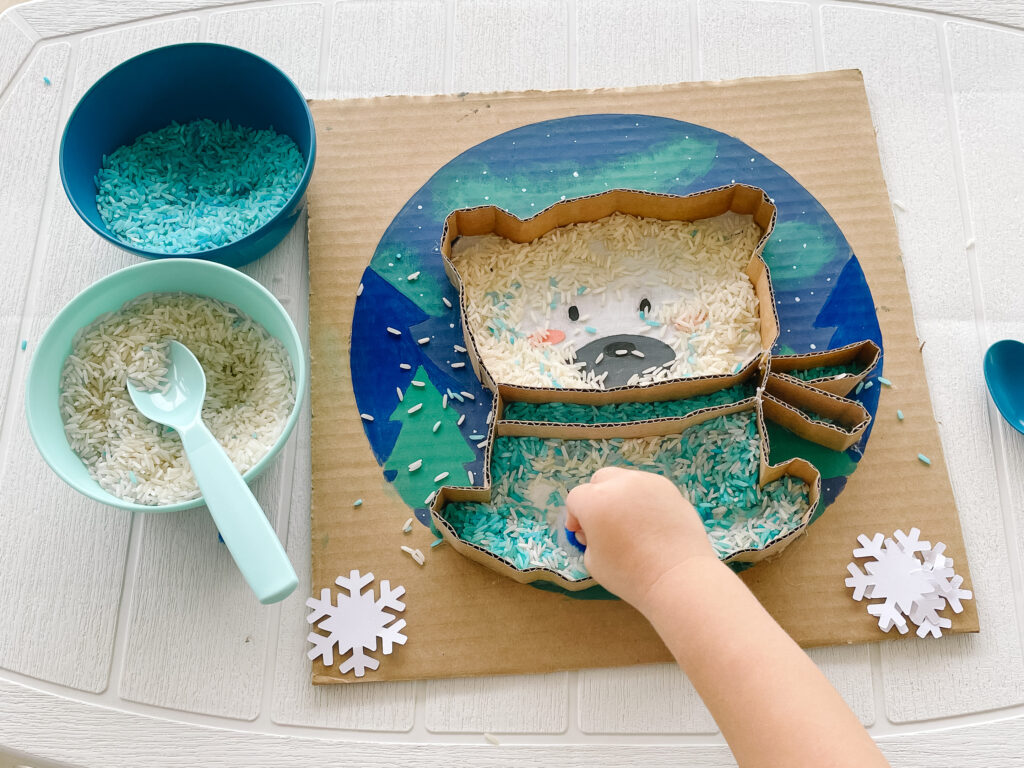 Happy National Polar Bear Day!
PIN ME FOR LATER