Make National Pizza Day fun and exciting for your kids with this pizza sensory puzzle.
National Pizza Day is celebrated every 9th of February. To celebrate this special day, I created this heart pizza sensory puzzle for my kids in combination with our Valentine's Day activity.
We used yellow split peas as filler because they're perfect for the pizza color. The pizza toppings were created from felt and foam paper. I also added real leaves and red petals.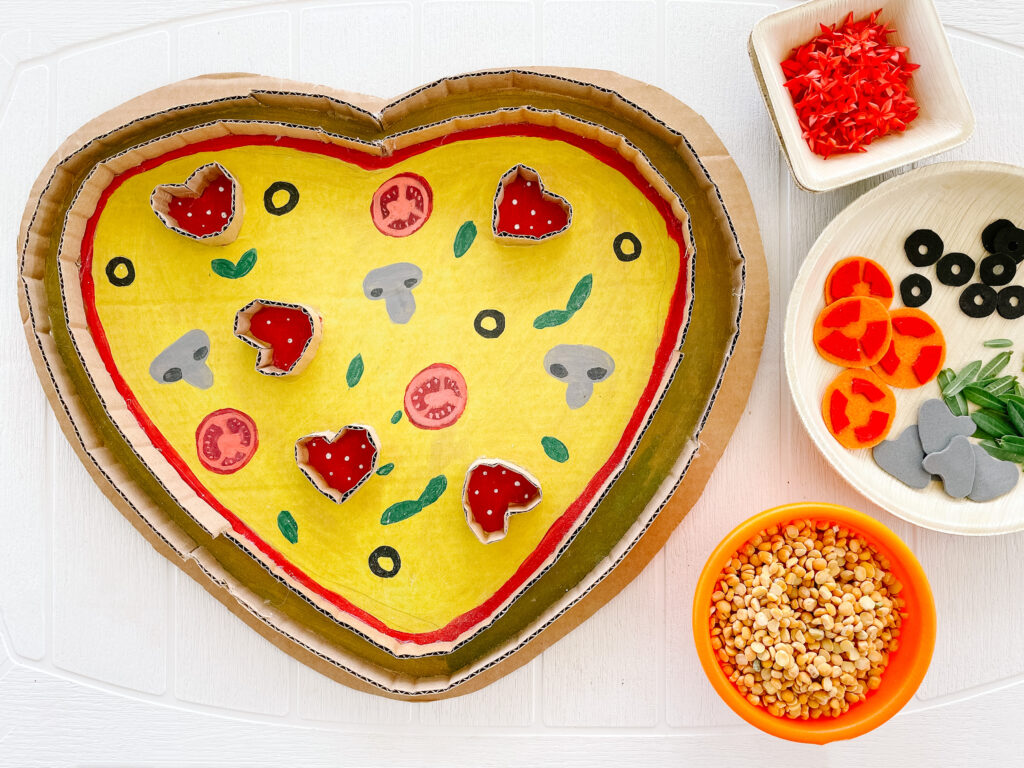 Let's create a pizza sensory puzzle:
Materials needed:
Recycled cardboard
Yellow split peas
Oats
Glue gun and stick
Scissors
Red and orange felt
Gray and black foam paper
Santan leaves and flowers (optional)
Acrylic paint
Paintbrush
Plates, bowls and scoops
Pencil and eraser
Instructions:
Sketch and paint a heart-shaped pizza on a piece of cardboard.
Cut 1 inch strips of cardboard.
Glue strips of cardboard to the outer part of the pizza.
Glue another strip to divide the crust from the whole pizza.
Glue strips to the heart pepperonis.
Once the puzzle is done, cut out the extra cardboard on the sides.
Toppings:
Make tomatoes by cutting red and orange felt. Attach with hot glue.
Draw and cut mushrooms from a grey foam paper.
Draw and cut black olives from a black foam paper.
Gather some Santan leaves and flowers.
Serve the toppings on a plate.
How we played:
My boys poured the split peas into the cardboard and filled the crust area with oats. They enjoyed decorating the pizza with the different toppings and continued playing by scooping the split peas back and forth the bowls.
Happy National Pizza Day!
PIN ME FOR LATER