In Chinese culture, Koi fish represents wealth, happiness and success. What better way to welcome Chinese New Year than creating paper koi fish and adding them to your kids sensory bin.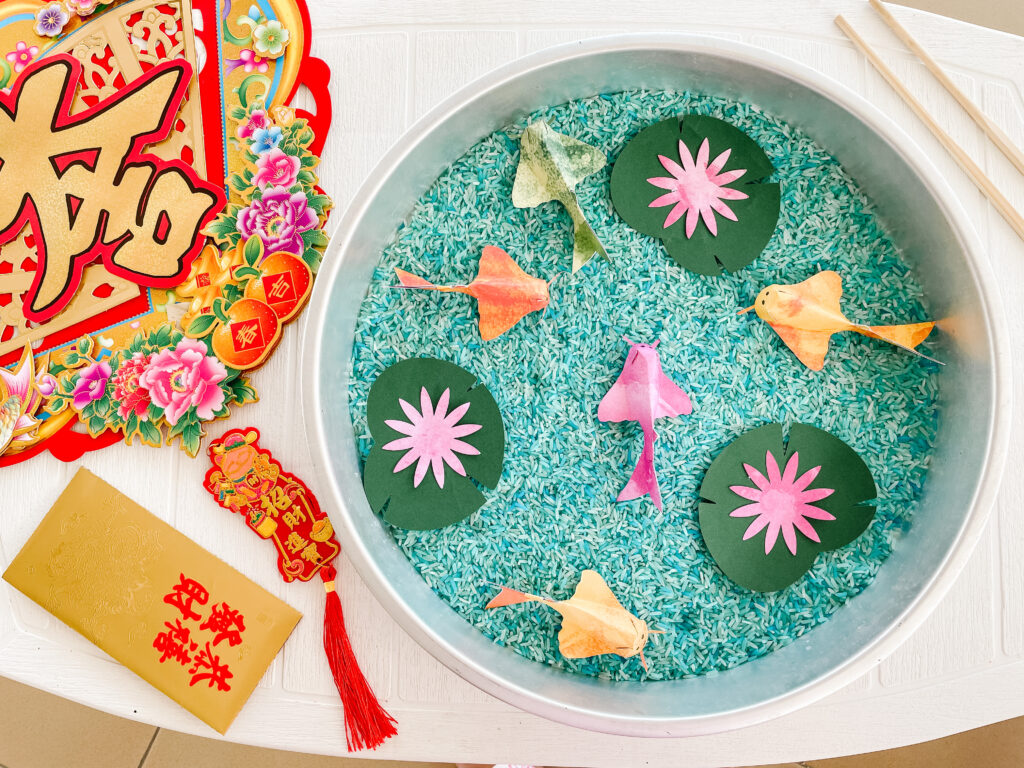 Let's set up a Koi fish sensory bin:
Materials needed:
Round tray
Patterned paper (green, orange, yellow and pink)
Green cardstock
Glue gun and stick
Scissors
Black marker
For colored rice:
1 cup rice
Blue food coloring
1 teaspoon vinegar
Ziplock
Paper towel
Instructions:
Fill the ziplock with a cup of rice.
Pour the vinegar.
Pour a few drops of the food coloring.
Close the ziplock.
Mix and spread the food coloring with the rice.
Add more drops until you reach your desired hue.
Pour the colored rice evenly on the paper towel and let dry.
Koi fish origamis:
Download the koi fish template and follow the instructions found on the template.
Create koi fish origamis using the patterned paper.
Cut out the waterlilies and lilypads from the green cardstock and pink patterned paper.
Fill the tray with the colored rice and arrange the waterlilies and koi fish. I also put out scoops, plates and bowls for extra fun.
More friends? No problem!
Add more scoops and fun!
PIN ME FOR LATER