Try this fun DIY Easter egg sensory puzzle using recycled cardboard and toilet paper roll.
This post is in collaboration with Pandie! All thoughts and opinions are my own.
Niko likes sensory puzzle activities. For this activity, he sorted the pompoms using tweezers to their matching colors then scooped and filled the whole cardboard egg with rice.
We used the pom-poms gifted to us by Pandie. Pom-poms are one of my favorite materials. There are so many crafts and activities that you can do and create with them.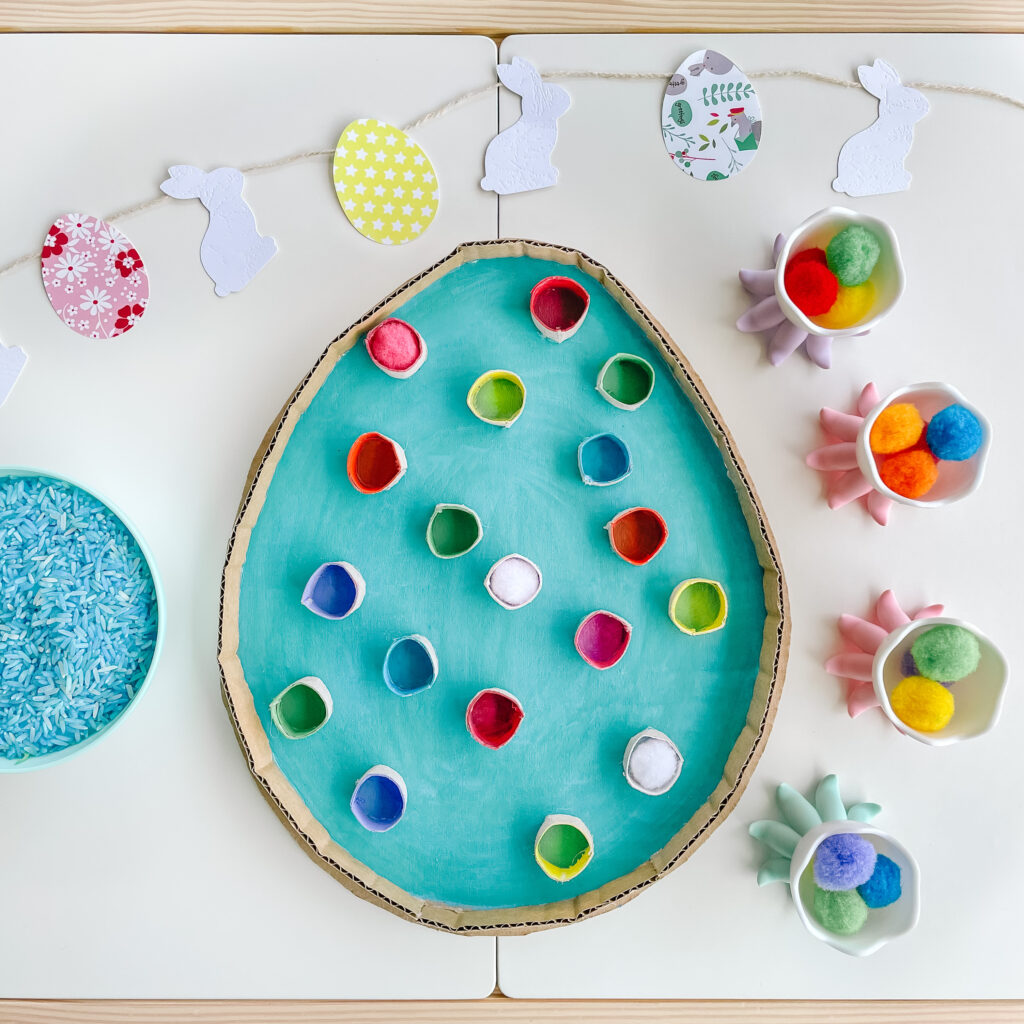 Let's create an egg sensory puzzle:
Materials needed:
Recycled cardboard
Toilet paper rolls
Paint, colors of your choice
Scissors
Glue gun and glue stick
Paintbrush
Pom-poms
For the colored rice:
Food coloring; blue
1 cup of rice
1/2 cup vinegar
Container with lid or ziplock bag
Paper towel
Extra items:
Spoon
Bowl
Tweezers
Egg holder or any container to hold the pom-poms
Instructions:
Draw and cut an egg shape from the recycled cardboard. Color it with blue.
Cut a strip from the cardboard and glue it around the edge of the egg.
Cut out the extra cardboard.
Cut out small strips from the toilet paper roll and bend them to form small circles. (The exact size of the pom-poms).
Glue the small round TP rolls into the cardboard.
Paint the inside of the TP rolls with your preferred colors.
For the colored rice:
Fill the ziplock with a cup of rice.
Pour the vinegar.
Pour a few drops of the food coloring.
Close the ziplock.
Mix and spread the food coloring with the rice.
Add more drops until you reach your desired hue.
Pour the colored rice evenly on the paper towel and let dry.
How to set up:
Pour the blue rice into a bowl or container.
Place spoon or scoop next to the rice.
Place the pom-poms into the egg holder or any container.
Invite kids to play.
Hope you liked and enjoyed this activity!
PIN ME FOR LATER