Celebrate St. Patrick's Day and get lucky with this DIY shamrock sensory puzzle.
Are you celebrating St. Patrick's Day with your kids? If yes, you will enjoy this shamrock sensory puzzle made from cardboard.
Colored rice is always a winner in our house. This type of sensory play fillers helps kids in using their sense of sight and touch as they explore the colors and textures of the rice.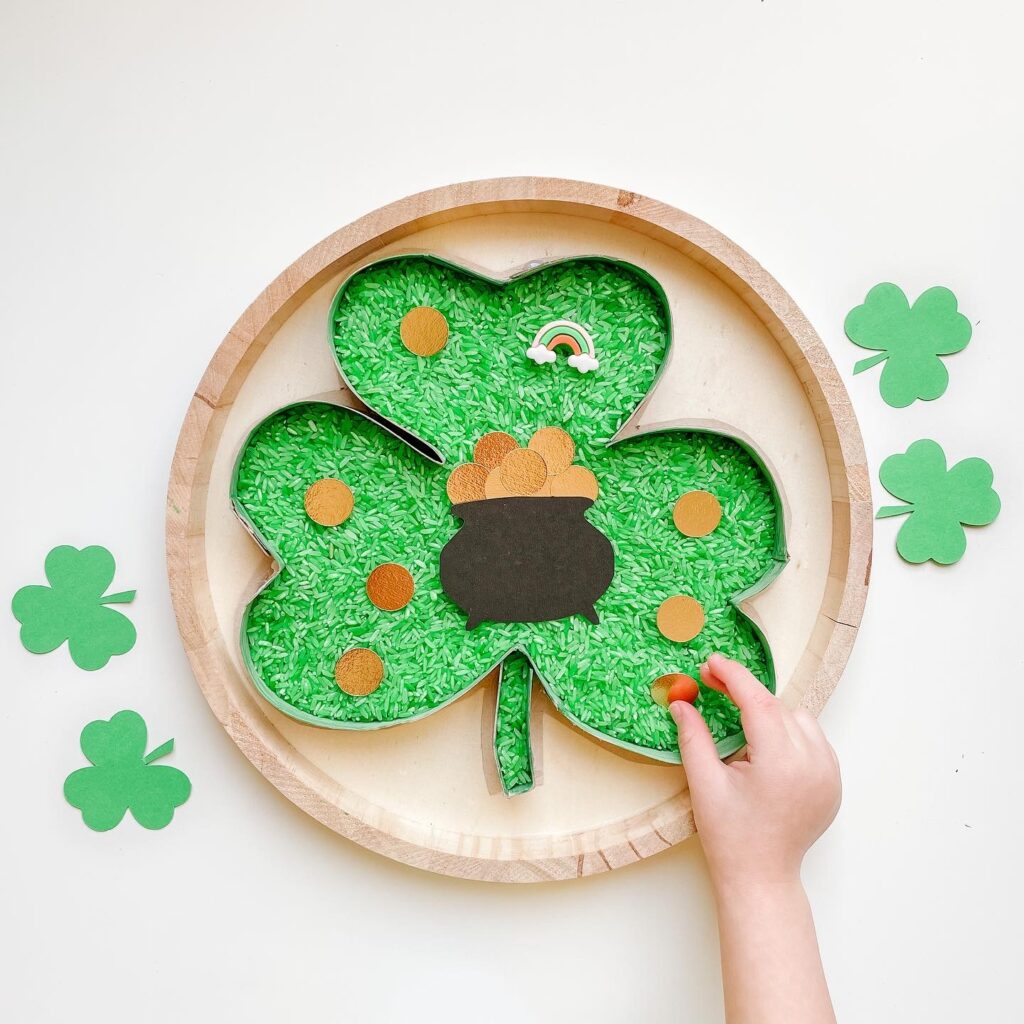 Let's create a shamrock sensory puzzle:
Materials needed:
Recycled cardboard
Gold poster board
Black paper
Glue gun and stick
Scissors
Green paint
Paintbrush
Pencil and eraser
For the colored rice:
Food coloring; green
1 cup of rice
1/2 cup vinegar
Container with lid or ziplock bag
Paper towel
Extra items:
Rainbow toy
Shamrock cutouts
Containers
Spoons
Instructions:
Draw a shamrock in the recycled cardboard.
Cut strips of cardboard and glue them on the edge of the shamrock.
Cut out the extra cardboard.
Color the inside as well as the sides of the shamrock with green paint.
For the decors:
Cut out a cauldron shape from the black paper.
Cut small circles or coins from the gold poster board.
Glue a few of the gold coins on top of the cauldron.
For the colored rice:
Fill the ziplock with a cup of rice.
Pour the vinegar.
Pour a few drops of the food coloring.
Close the ziplock.
Mix and spread the food coloring with the rice.
Add more drops until you reach your desired hue.
Pour the colored rice evenly on the paper towel and let dry.
How to set up:
Pour the green rice into the cardboard.
Place the cauldron and rainbow on top of the rice.
Scatter the remaining paper coins around the rice.
Prepare bowls and spoons on the side.
Invite kids to play.
Hope you liked and enjoyed our activity!
PIN ME FOR LATER