Celebrate the Lunar New Year with a DIY Chinese dragon sensory puzzle.
I always love introducing different cultures to my kids through simple plays. Niko loves dragons, dinosaurs (and the likes) and making this sensory puzzle was such a big hit.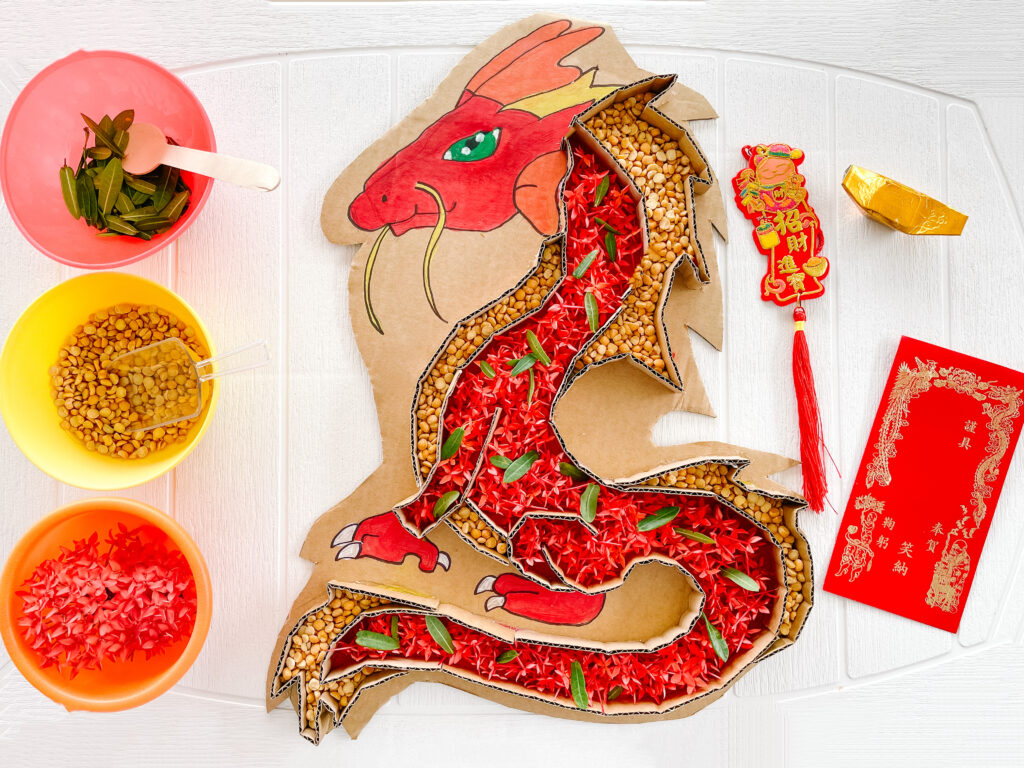 Let's make a Chinese Dragon Sensory Puzzle:
Materials needed:
Recycled cardboard (used boxes)
Acrylic paint
Black marker
Glue gun and stick
Scissors
Pencil and eraser
For fillers:
Santan petals
Santan leaves
Yellow split peas
Extras:
Containers
Spoons and scoops
Instructions:
Sketch out a dragon on a piece of cardboard.
Paint according to the color of your preferred dragon. I used red, yellow, green, white and orange. (These are the common Chinese dragon colors)
Use the black marker to outline the dragon's body and face.
Cut a few 1 inch strips of cardboard.
Apply hot glue on the outside part of the dragon as well as the inside. (This is when you want to divide the areas for different kinds of fillers)
Once the puzzle is done, cut out the extra cardboard on the sides.
Fill the containers with fillers and spoons and serve to play.
There you go! Hope you guys will enjoy this activity as much as we did.
PIN ME FOR LATER